Functionalities
Pro datasets
For those focused on post-processing and those who are eager to get lots of data immediately. Pro Datasets are complete sets of raw images obtained regularly from our network of telescopes and curated by our team of expert astronomers and astrophotographers. Many Pro datasets are provided with a step-by-step video tutorial that will boost your processing skills.

For this function, we deliver calibrated monochromatic images that you will need to post-process with your favourite software.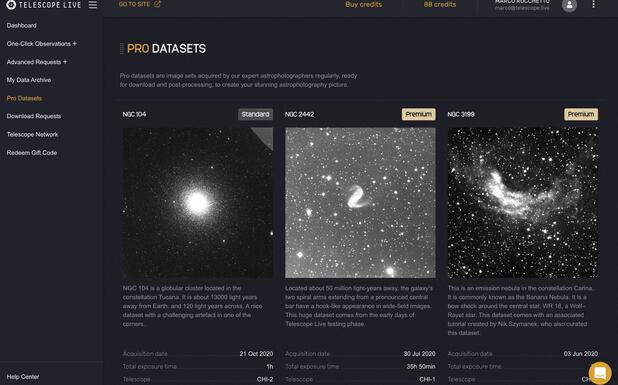 Benefits
What's in it for me?
EFFORTLESS
Leave the complexities of setting up Advanced Requests to our expert observers. Download fully calibrated images ready for post-processing, without waiting for clear skies!
LEARNING
Most datasets come with video tutorials, guiding you through the various post-processing techniques to generate stunning astrophotography pictures.
A STREAM OF IMAGES
Sign up to Bronze or above to get access to plenty of Pro Datasets. Obtain plenty of high quality images at a fraction of the cost compared to the more expensive Advanced Requests.
How it works
See it in action
Watch this video to learn more about Pro Datasets.