THE HOME OF ASTROPHOTOGRAPHY OFFERS YOU
A WHOLE NEW WAY TO OBSERVE THE NIGHT SKY
WHETHER YOU'RE AN EXPERT ASTROPHOTOGRAPHER OR JUST STARTING OUT, TELESCOPE LIVE IS THE MOST AFFORDABLE WAY TO OBSERVE THE NIGHT SKY – AT ANY GIVEN TIME. KEEP READING TO FIND OUT ABOUT THE MOST COMPLETE ASTROPHOTOGRAPHY OFFERING ON THE MARKET!
OUR MISSION
What we believe in
We believe that astrophotography should be more accessible to everyone and that all the wonders hidden in the night sky should be easier to observe.
That's why we decided to break down the main barriers to astrophotography, by…
Cutting the incredibly high costs that you have to bear to practise this passion.
Opening the gates to an endless stream of observations and making them available to everyone.
Declaring war on the steep learning curve that you have to go through when approaching this hobby.
We've done this by allowing astrophotographers to work with data taken from professional, top-quality telescopes located in both hemispheres and under the best night-skies.
We offer the most affordable way to access observations of every night-sky object, continuously obtained with those telescopes.
That's paired with tailored onboarding that makes it easier than ever to start practising astrophotography.
And we've got the best instructors out there to teach you all the tips and tricks that will take your knowledge and capabilities to the next level.
Be part of the Astrophotography revolution! Join Telescope Live today.
Problems
ASTROPHOTOGRAPHY COMMON ENEMIES
Bad Weather
If you live in or nearby a big city, light pollution forces you to drive for miles looking for a remote spot where you can use your gear.
Light Pollution
If you live in or nearby a big city, light pollution forces you to drive for miles looking for a remote spot where you can use your gear.
Southern or Northern Hemisphere
Then there's the impossibility to shoot deep-sky objects that are in another hemisphere, which you simply can't observe from your usual location.
Lack of Time
Sometimes, even though all the external elements are favourable, you just don't have the time to get out in the field.
Moon Interference
More often than not, the moon interferes with your observations – and it's so easy to miss opportunities to gather data when she is "out for the night".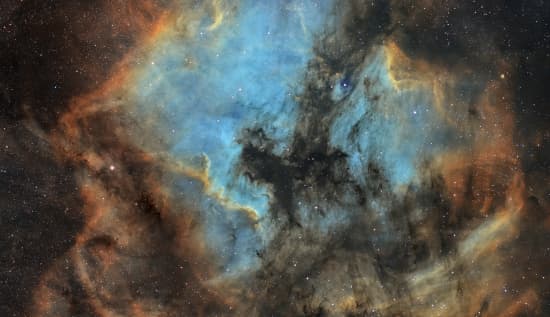 HOW TO DEFEAT THESE ENEMIES
OPEN DATA ARCHIVE + REMOTE IMAGING
If you want to focus on the post-processing phase (working on data that's already acquired), an open data archive of pre-calibrated images will let you jump straight into the action.

This means you can start working on the raw files immediately and convert them into stunning images.
Alternatively, a remote imaging service allows you to use professional telescopes located in different sites all around the world, through an online platform.
Select the site of the observatory, in either hemisphere.

Choose the telescope you want to use.

Enter the settings for your observation, such as filters, exposures, and scheduling.

And then let the automated system gather all the right data.
After a few hours or days, you will receive the raw data for post-processing with the end result of a stunning picture!
Telescope Live
The Solution To All Astrophotography Problems
The world's largest archive at your disposal
Members get access to our archive of pre-calibrated images, acquired over all the years we have been in business.
This means that you will have immediate access to all the data obtained to date since the beginning of Telescope Live.
At the time of writing, our archive consists of 122 thousand images, corresponding to more than 7,000 hours of observations – basically an entire year of non-stop observing time.
Even better, we will continue to collect new observations, which will be made available as soon as they are acquired. As a result, our database will be expanded more and more over time!
From zero to astrophotography hero
With our vast range of resources and data sets ready to be downloaded, you will boost your post-processing skills like you never have before.
But we also have lots of material specifically designed for those just starting, which will guide you through every aspect of creating your first astrophotography pictures. Thanks to our tutorials, you will literally go from zero to astrophotography hero in no time!
Forget about bad weather conditions
All our observatories are located under the world's best skies, where the weather is great for most of the year. So, you can forget all your weather problems once and for all! You will have the chance to acquire great astrophotography pictures in the best sky conditions, even when the weather is hitting hard where you live.
Forget about the moon phase
If you want to submit an Advanced Request (an observation specially made for you), you can choose the desired moon conditions in which you wish to observe, thanks to our automated schedule. Select the best moon avoidance constraints for your observation in relation to the object you desire, and we guarantee you the best results!
Time won't be a problem anymore
If you don't have enough time to collect data with your own gear, now you can download images ready to be post-processed. Or submit an observation request and our automated service will do the rest for you. For the latter, you can choose all the observing parameters you prefer (telescope, filters, etc), then receive the images you requested ready to be post-processed in a matter of hours or days.
Our automated scheduling allows you to set up observations that can run even for tens of hours without the need to think about how to schedule them. Our automated scheduler takes care of planning your observations in the best possible way, allowing very long requests to be fulfilled optimally.
Light pollution will be just a distant memory
The sites of our observatories are the equivalent of paradise for every astrophotographer. They are located in dream locations, such as deserts and mountains, where the weather is great most of the year and where civilization (and the associated light pollution) is totally absent.
Observe from both hemispheres without leaving the comfort of your home
With our telescopes located in both hemispheres, you can now take shots of all the objects that you have always dreamt of – but were inaccessible before! We've also got you covered in case the observation schedule of your chosen target is incompatible with your usual observation location at that specific time of the year. With automated scheduling that takes care of all the different factors impeding your observation, this won't be a problem anymore.
what our users say
Testimonials
Sign up
START YOUR 1-WEEK FREE TRIAL NOW
*no credit card required
We want to give you the chance to try our Silver Plan for one week. This is the perfect solution for both intermediate and advanced astrophotographers. After the first free week, you can then decide whether you want to subscribe for only $19/month.
3 ways to observe the night sky
OBSERVING MODAILITY #1
ONE-CLICK OBSERVATIONS
Image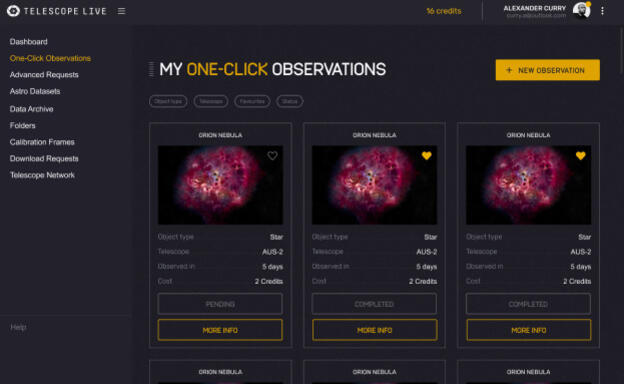 One-Click Observations are the easiest and most convenient way to obtain processed images and raw data from our telescopes.

Since no previous knowledge is required (you literally need just one click to obtain the images), this kind of observation is ridiculously easy to use. It's also the most affordable way on the market to gather data!

Since each One-Click Observation is curated by our team of expert astronomers and astrophotographers, you can leave the complexities of setting up the observations to our team, then effortlessly download fully calibrated images ready to be post-processed.

You can choose from our catalogue of deep-sky objects observations acquired over several years with thousands of images at your disposal.

When you download One-Click Observations, you will get both the original raw data sets and a high-quality coloured picture ready to be shared.

You'll get immediate access to the data grabbed without having to wait for days to obtain your images or and with no need to wait for clear skies.

All One-Click Observations are regularly obtained from our network of telescopes, offering you a wide choice of raw images that is constantly expanding over time.

You also have the option of Observation Bundles, featuring several pictures of the same object with the same specifications. These discounted bundles allow you to add more depth and quality to your final astrophotography picture.
OBSERVING MODAILITY #2
Advanced Requests
Image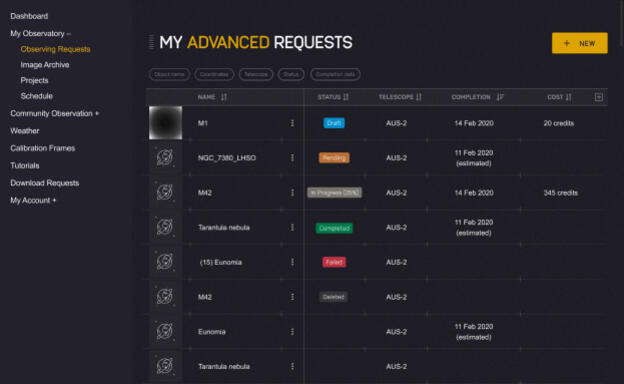 Observe deep sky objects or minor solar system bodies, specifying their name and coordinates.

Exclusive access to any of the 10 telescopes located in Chile, Spain or Australia, from small wide-field refractors to large 1m reflectors.

Select the filters and exposures you wish to use. We have top-quality cameras across the entire network and complete sets of Astrodon astrophotography filters.

Perform photometric observations using any of our larger telescopes and Sloan photometric filters.

Use our Automated Scheduling mode to automatically schedule your observations in optimal conditions. Or use Custom Scheduling to choose exactly when to take your observations.
Benefits
WHAT YOU WILL GET WITH THE FREE TRIAL
We want to give you the chance to try our Silver Plan for one week. This is the perfect solution for both intermediate and advanced astrophotographers. After the first free week, you can then decide whether you want to subscribe for only $19/month.
With the free trial, you will receive 5 Telescope Live Credits that you can use to download One-Click Observations or Observation Bundles – which are collections of One-Click Observations of the same object, obtained using the same telescope and filters.
You will also gain access to all our learning resources – including both Standard and Premium video tutorials. Standard tutorials will guide you through the basics of astrophotography, while Premium ones are super detailed, advanced videos curated by world-renowned astrophotographers to massively increase your observing and processing skills!
what our users say
testimonials
Top-Notch Quality Professional Telescopes At Your Service
TELESCOPES
RESOURCES
Learn from the best
With a 1-week free trial of the Silver Plan, you'll have access to all the video tutorials available on our platform, including the Premium ones.
Published regularly, these videos will hugely improve your processing skills.
All our tutorials are curated by our team of experts along with several renowned astrophotographers that support Telescope Live – including Nik Szymanek, Adam Block, Peter Jenkins, and many others.
Thanks to our growing community (comprising thousands of members), you will be able to connect with other astrophotographers, APOD winners, insiders and leading experts. Learn from them, share your work and get inspired by the world's most talented observers.
Sign In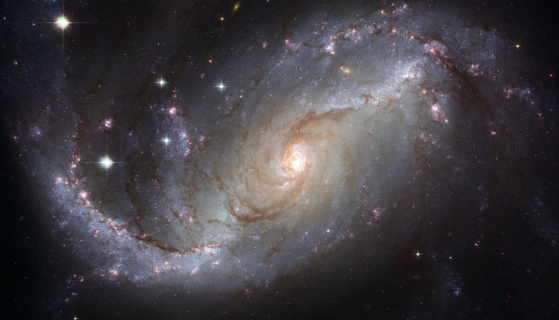 RESOURCES
Community and Contests
While astrophotography is usually a solo pursuit, we know that astrophotographers love to connect with people who share their passion.
That's why we've created a huge community of passionate astrophotographers and space enthusiasts that constantly share their knowledge, tips and tricks.
By becoming a member of Telescope Live, you too can be part of this great community. Get to know people who share your passion and learn new techniques and best practices.
To spice things up a little bit, we also have different contests with great prizes up for grabs. That includes monthly as well as Telescope Live Picture of the Day.
Participating in these contests gives you a new way to test your abilities and have your work evaluated by some of the best astrophotographers out there.
FORGET ABOUT POOR QUALITY – OUR GUARANTEE HAS YOU COVERED
Above all else, we want to give you the opportunity to observe the night skies from both hemispheres in the best possible conditions.
To achieve that, our telescopes and equipment are all scientific-grade and regularly maintained.
But this alone isn't enough. As you know, many issues can still arise during an observation – and we know how painful it can be to get your picture ruined.
Rest assured, all images taken go through quality control carried out by automated algorithms as well as being verified by our expert staff before we deliver them to you.
If for any reason the picture taken is compromised, we schedule a new observation until the right photo (or data) comes out as expected.
As such, you can be sure that your observation will be the exact one you paid for. That's our guarantee!
ALL THAT'S LEFT TO DO NOW IS START YOUR 1-WEEK FREE TRIAL AND OBSERVE THE NIGHT SKY LIKE NEVER BEFORE
Sign up
START YOUR 1-WEEK FREE TRIAL NOW
*no credit card required
We want to give you the chance to try our Silver Plan for one week. This is the perfect solution for both intermediate and advanced astrophotographers. After the first free week, you can then decide whether you want to subscribe for only $19/month.