Functionalities
Advanced requests
Specifically designed for the most demanding astrophotographers, advanced requests allow you to tweak every aspect of your observations and obtain the highest quality raw images. Get exclusive access to our worldwide network of telescopes located under the best skies.

All Advanced Requests have maximum priority against the other observation modalities available. This means that you will get your images as quickly as possible.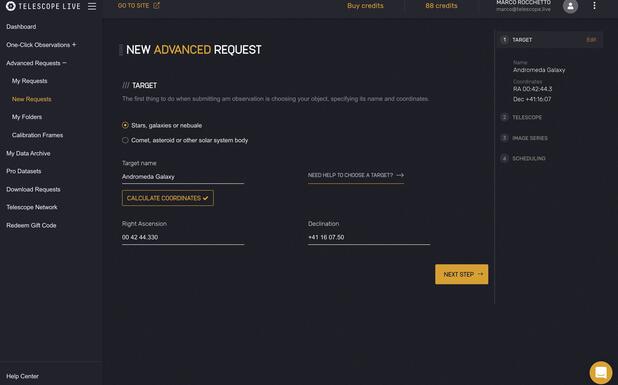 Benefits
What's in it for me?
CUSTOMIZABLE
Define and choose every aspect of your observations, and leave the scheduling to our advanced algorithms. So, you get your images delivered as soon as possible with the best sky conditions.
QUALITY ASSURANCE
Our algorithms and staff check every image acquired. When poor images are detected, we will reacquire them automatically or give you a refund, meaning that you will never get poor quality images.
NO WASTED TIME
Forget about setup times, loss of imaging time due to poor weather, or long calibration runs. We take care of everything for you, and deliver only good quality, fully calibrated images.
How it works
See it in action
Watch this video to learn more about Advanced Requests.