Functionalities
One-click observations
If you are new to astrophotography and you are eager to learn about space, one-click observations are the easiest and most convenient way to obtain color images from our telescopes.

Choose from plenty of night sky objects, and have your images delivered in a matter of hours or days. We will take the images for you, and deliver high-quality, color pictures, ready to be shared.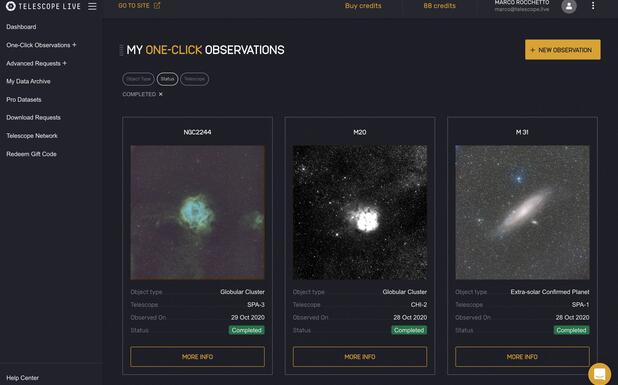 Benefits
What's in it for me?
EASY TO USE
No previous knowledge is required to get your stunning images of night sky objects such as stars, nebulae and galaxies.
AFFORDABLE
One-Click Observations are the most affordable way to obtain processed images daily with our robotic telescopes.
EDUCATIONAL
Learn about space, by observing deep sky objects with our worldwide telescopes. Every image will be delivered together with learning resources from our Academy.
How it works
See it in action
Watch this video to learn more about One-Click Observations.