New Plans and Credit Pricing Coming in 2022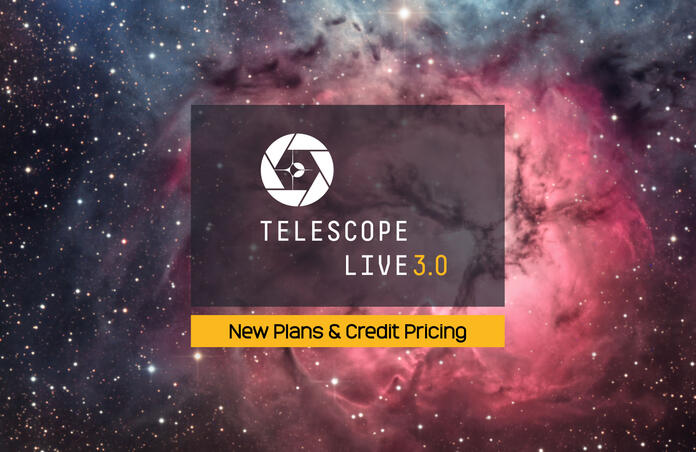 In this blog post, I want to discuss some changes we will introduce in the new year.
Watch the video below to understand better how things will change, or read the post below (that will tell you the same things discussed in the video).
Two new plans: Platinum and Diamond 
We are introducing two brand new, premium plans, thought for our most savvy observers. 
They will be called Platinum and Diamond, and they are thought for people who want to grab every single One-Click Observation ever done on our network and for people who rely heavily on Advanced Requests.
 Both plans will have the same advantages of Gold, but they will come with a higher discount when grabbing past One-Click Observations or submitting Advanced Requests:
Platinum will have a 25% discount 
Diamond will have a 30% discount 
On top of that, if you join the Platinum plan, you will have top priority when using Advanced Requests and our CHI-1, AUS-2, SPA-1, 2, 3 telescopes. 
The price of pay-as-you-go credits will change from 1st January 2022
Explore space from the comfort of your home! Start now your 1-week free trial.
Try it free
Hold your horse for a second before you start losing your temper!
The price of all the plans will remain the same, and you will still receive the same amount of credits each month.
Therefore, what will change is the cost of credits that you buy "outside" of your plan.
Today, credits can be bought using "top up cards" available on the dedicated page Buy Credits.
The unit cost per credit has always been $ 1.00, € 1.10, £ 1.00, A$ 1.60 and C$ 1.30, tax inclusive,where the currency depends on your country of residence, and the differences in values are due to different local taxations. 
We have never offered bulk discounts, meaning that you'd get the same credit unit cost if you bought 50 credits or 2000 credits.
This is what's changing.
From 1st January 2022, we will introduce bulk discounts for any top-up card above 250 credits, but we will increase the unit cost per credit for smaller top-up cards.
The new cost per credit from 1st January 2021 will be $1.40, €1.50, £1.40, A$2.20 and C$1.80, tax inclusive.
Get data from top-notch professional telescopes located under the world's best night skies without leaving the comfort of your home.
Try it free
Discounts up to 40% will be available for bulk purchases.
These are the new pricing for the top-up cards and the bulk discounts:
| Top Up Card | Price | Discount |
| --- | --- | --- |
| 5 credits | $7 | - |
| 10 credits | $14 | - |
| 25 credits | $35 | - |
| 50 credits | $70 | - |
| 100 credits | $140 | - |
| 250 credits | $350 | - |
| 500 credits | $500 | 28% |
| 1000 credits | $910 | 35% |
| 2000 credits | $1680 | 40% |
As you can see, discounts will only be applied for top up cards above 250 credits.
For lower top up cards, it'll always be more convenient to obtain credits via a subscription plan, where prices won't change.
As a reminder, these are the credits you will be getting with your plan:
| Plan | Price/month | Credits/month | Discount on past OneClicks and Advanced Requests |
| --- | --- | --- | --- |
| Bronze | $5 | 5 |  - |
| Silver | $19 | 20 |  - |
| Gold | $49 | 50 | 20% |
| Platinum | $99 | 100 | 25% |
| Diamond | $249 | 250 | 30% |
But am I going to pay more than now?
No! We are introducing these two new plans and these new credit policy to make it more convenient for people who want to invest more on remote imaging
Let's take a look at one example:
John is in Silver, he pays $19/month and he gets 20 credits/month. He needs about 120 credits for his advanced request.
Start now your 1-week free trial to observe the night skies as you never did before.
Try it free
Today, he can pay $100 to get 100 credits. Together with his monthly credits, he has 120 credits. He can submit a request valued 120 credits, as Silver comes with no discount. He spent $119 in total (or $0.99/credit).
With the new pricing, John could buy 100 credits for $140, but that's not convenient. He decides to join the Platinum plan for $99, for one month, to get 100 credits.
In total, he now has 120 credits. He can submit a request valued 150 credits, as Platinum comes with a 25% discount on Advanced Requests. He spent $118 in total (or $0.79/credit, 20% less than before)
John's Advanced Request with the new pricing is 20% cheaper. He spent $1 less, to submit a request valued 30 credits more.
John can then downgrade to Silver, so next month he will still pay $19, while staying in Platinum for 1 month.
What will happen when you unsubscribe
One of the new advantages of Telescope Live 3.0 is that credits accumulate as long as you are a subscriber.
If you don't use your subscription for one or more months but you keep paying, your credits will accumulate.
Access anywhere, at any time, the world's largest database of astrophotography data ready to be downloaded and post-processed.
Try it free
However, we understand that you might want to take a break from your monthly subscription at times.
If you unsubscribe, we will keep all your data safe for up to 12 months. 
You will not be able to grab One-Click Observations nor Bundles, nor submit new Advanced Requests. 
You will not be able to download grabbed One-Click Observations or bundle. 
However, you will be able to download your past Advanced Requests, and also any currently pending Advanced Request which could terminate while you are unsubscribed.  
We will also keep your credits for up to 3 months. After then, your credits will expire (but your data will still be safe for up to 12 months).
To reset the clock, you simply have to subscribe to any of our plans for 1 month (starting at only $4 per month). 
We are introducing a grace period for all our existing members. All credits obtained or bought before 31st December 2021 will not expire after you unsubscribe (but note that we do still reserve the right to delete your account if you don't use your account for more than 1 year).
The world's largest database of astrophotography data is waiting for you! Start now your free trial.
Try it free
---
So, here are all changes that we will introduce in January 2022.
I know that some people might turn up their noses to some of these changes, but as our company and our product grow, so our business model has to evolve and become more articulated.
As many of you know by now, we are constantly thriving to evolve and change, bringing you new services.  
Every dollar raised has always been reinvested to bring you a better and more complete experience.
Next year won't be any different… 
So, thank you for continuing to be part of the astrophotography revolution that is Telescope Live!
See you, Space cowboy,
Marco