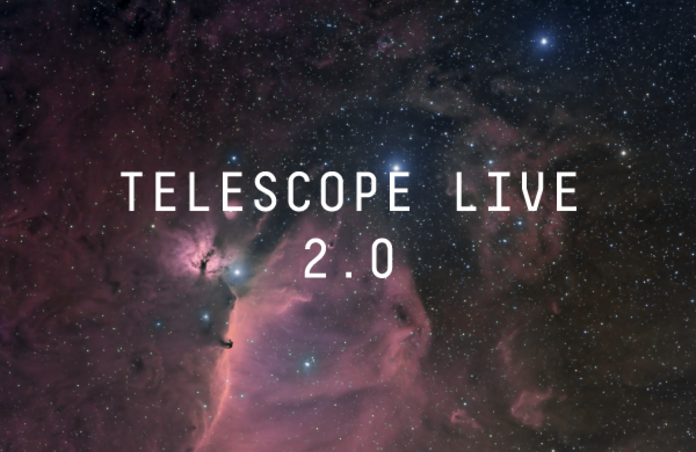 From the desk of Marco Rocchetto
Founder of Telescope Live
London, 14 September 2020
As we all know, Space is constantly expanding and shape-shifting. So, as every space-lover should, we thought we had to do the same!
Bear with me, because in this blog post I'm going to present you a series of new services and features that will allow you to hone in on your astrophotographer skills and level up!
It is with enormous pleasure that I announce to you that Telescope Live is going through an exciting revolution and re-invigoration of itself.
In fact, in October, we are going to launch an all brand-new version of Telescope Live!
In the past few months, we have asked to many of our subscribers how to improve our service to make the whole astrophotography experience more useful, entertaining and hassle-free for our beloved space-enthusiasts. Thanks to the feedback obtained, we understood that the only thing to do was to start a revolution.
A revolution that is going to make Telescope Live the new home for astrophotography and remote imaging!
With the launch of Telescope Live 2.0, our mission is to build the most accessible and connected astrophotography platform in the world.
Maybe you are now asking yourself something like:

"How would you guys do that?"
That's an excellent question.

You see, we have learned from you that there were some critical pain points for both experts and novice astrophotographers. So, we sat down in order to figure out how to improve the experience for all our users.

What came forth from this research, if we do say so ourselves, is a small masterpiece!
First of all, let me assure you that the quality of our top-class astronomical equipment will not be compromised – that's non-negotiable for us!

So now let me briefly tell you what we have worked on:
With the 2.0 version, we wanted to make the whole experience as hassle-free as possible for you.

We achieved this objective with a brand new, redesigned User Interface and with an improved user experience that is going to be as smooth as silk.

Then we focused on the community.

We have introduced a new set of features that will not only make it easier to share your stunning pictures but to interact with other fellow astrophotographers, too. You will be able to share knowledge and experiences, to comment on each other's work, and also ask technical questions in a more direct and immediate way.

For this reason, soon after the launch of Telescope Live 2.0, we will also start a Facebook group.

The learning aspect was another issue we had to face.

With the new version, many more resources will be available (such as articles, video-tutorial, and other learning materials) so that you will learn about space through your observations.

This point leads us to the new services we have now made available.

We have developed two brand-new observation modalities while maintaining our current core service that we now call "Advanced Requests"
1. The first of these two new modalities will be called "One-Click Observations". It has been specifically designed to allow novices to take stunning pictures without having to handle all the technical aspects of the observation.

You will be able to choose the night sky object you want to explore and we will take the observations for you. What you will get is a high quality and full-colour image ready to be shared.

But that ain't all!

In fact, all the "One-Click Observations" will come with supporting learning material, so you will be able to learn through observing.
2. The second new modality is the "Pro Datasets".

This offer was specifically designed for those who are crazy about post-processing the raw images taken with our telescopes.

You will be able to choose from plenty of raw images that will be immediately available for the post-processing phase.

This will let you put your hands on amazing observation at a fraction of the actual cost allowing you to create jaw-dropping pictures.
Thanks to all the new features that will be available, you are going to live your astrophotography experience in a more deep and conscious way and in doing so you will absolutely love the process!
Our learning material combined with the community that we are going to create will enable novices to start on their journeys to becoming great astrophotographers.
You will literally go from zero to astrophotography hero!
In the next few weeks before the launch, I'm going to tell you more about each specific aspect of this revolution over email.
But before we say goodbye, I have a quick message for those who have accumulated many credits: don't worry, your credits will still be available on the new platform; we will make the transition to Telescope Live 2.0 as smooth as possible and you will not lose any money you have previously invested in us. That's a promise, we deeply value our faithful and curious astrophotographers.
Don't you worry; we've got you covered!

Keep your eyes peeled for new announcements in the next few weeks.

As the famous anime Space Cowboy Bebop used to utter...

See you Space Cowboy!

Marco Rocchetto
Founder of Telescope Live