Two New Ways To Observe The Night Sky (And Much More)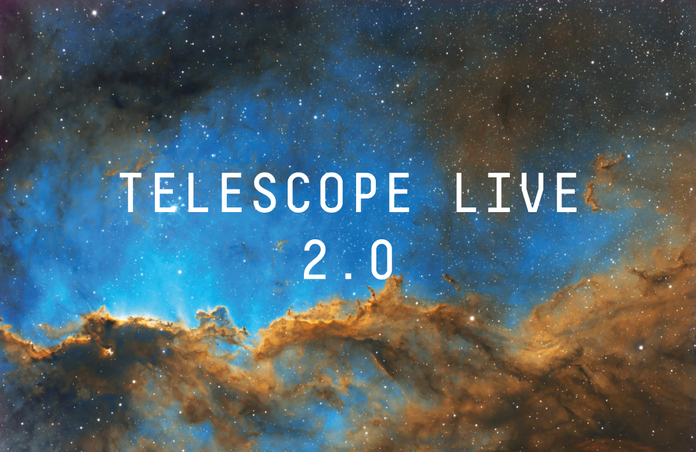 As promised in the last article, today, I'm going to tell you more about the new features that we are implementing in our platform that will make it easier for you to observe the night sky.

Before I guide you through the two all-brand-new observation modalities, there is one function that is going to make it much more practical for you to keep your observations organized.

With the creation of the new user profiles that I told you about in my last article, we will be giving you the ability to add multiple versions of your image under a single Gallery image post.

For instance, if you want to show different processing techniques, or how you improved your image but you'd like to keep the old one instead of replacing it, now you can.

Moreover, through a new feature called Link to Project, you will be able to link your astrophotography photo with the original raw data that you obtained with Telescope Live.

This is especially useful to keep your data organized and always linked in the best way.

With such new functions, we are now offering you a unique solution to manage and store securely your original data, organize your stunning astrophotography photos and share them with a wider community.

As I've said in the past: "You asked, we listened and we implemented!"

Ok then, now let's see the all-brand-new observation modalities I've mentioned at the beginning of this article.
One-Click Observations
If you are new to astrophotography and you are eager to learn about space, the One-Click Observations are the easiest and most convenient way to obtain coloured images from our telescopes.

You will be able to choose from plenty of night sky objects and have your images delivered in a matter of hours or a few days depending on the weather.

We will take the images for you and you will receive high quality coloured pictures ready to be shared. 

This kind of observation is going to be crazily easy to use since no previous knowledge is required.

For all One-Click Observations, we will also provide the original raw data used to create the colored images you receive. 

This is going to be the most affordable way to obtain processed images and raw data with our robotic telescopes!

We are going to offer you plenty of night sky objects daily (such as stars, nebulae and galaxies) to choose from.

And finally, you will be able to learn about space through your observations.

In fact, all the One-Click Observations will come with many learning resources, including tutorials on how to improve the colored images using the raw data obtained from the telescopes, and resources about the object you've observed.

Since this topic of learning has been one of the main points that we have developed with Telescope Live 2.0, we are going to explore it more in detail in my next article.
Pro Datasets
This kind of observation was specifically designed for those more focused on post-processing a picture.

With the Pro Datasets, you will have immediate access to tonnesof raw data without having to wait for severaldays to get your images delivered and without waiting for clear skies.

All the Pro Datasets will be regularly obtained from our network of telescopes - offering you a wide choice of raw images – and all of them will be curated by our team of expert astronomers and astrophotographers.

Most of them will also come with a step-by-step video tutorial that will boost your processing skills.

Disclaimer: In order to obtain a jaw-dropping picture, you will (obviously) require a post-processing program such as Photoshop or PixInsight (our recommended choice).

With the Pro Datasets you will leave the complexities of setting up the advanced requests to our expert observers and you will effortlessly download fully calibrated images ready for post-processing.

This is the best value for money you will get around!

Think about it: you will get the same images taken with our professional top quality telescopes at a fraction of the actual observation cost!
Advanced Requests
This observation modality is, at the moment, our core service. 

Since we know that most experts and demanding astrophotographers want to tweak every aspect of their observations, we decided to keep this service and improve it.
On top of a renewed user interface, we have developed several features that will surely be welcome by every demanding observer:
The possibility to observe comets and asteroids simply providing their name. We will automatically get their ephemerides and schedule the observations automatically according to their observability.
The possibility to enable or disable dithering for all your observations
The possibility to organize your observations using a new feature called My Folders. You will be able to organize all your images into Projects, and group all your projects into Folders. This will give you a much better way to organize your images as you wish.
Well, I think we have gone in great detail with our "sequenced unboxing" of Telescope Live 2.0.

Before we say goodbye, there is one last thing that I have to tell you and that I always give for granted even though I shouldn't…
I'm talking about quality assurance.
For us, the most important thing is to offer you the possibility to observe the night skies from both hemispheres in the best possible conditions.
This is the reason why our telescopes and equipment are all scientific-grade and regularly maintained.

But this isn't enough because, as we know, many issues can still arise during an observation…

Since we know how painful it can be to get your picture "ruined", we can reassure you that all the images taken go through a quality control carried out by automated algorithms and then verified by our expert staff before we deliver them to you.

If for any reason, the picture taken is compromised, we schedule a new observation until the right photo (or data) comes out like you are expecting it.
In such a way, we can be sure that your observation will be exactly the one you paid for.

That's our guarantee!

And with that, I really think it's all for today.

As anticipated, in the next article I'm going to talk to you about how we implemented the learning aspect of Telescope Live 2.0.