Watch It Live: Close encounter with asteroid 1989 JA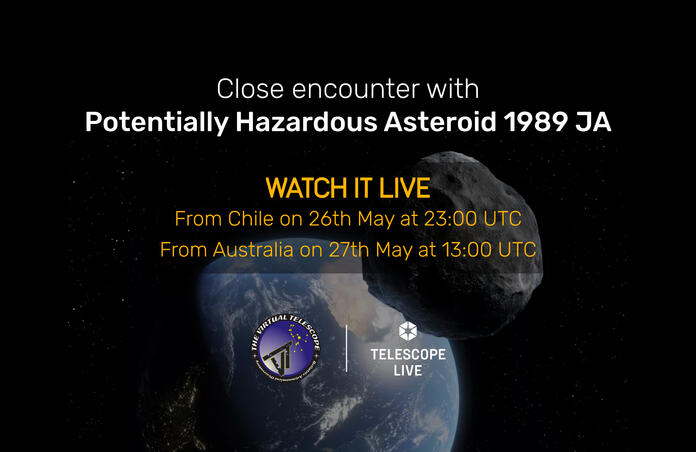 At Telescope Live, we're passionate about offering the most spectacular images of the night sky to people all over the world. That's why we're delighted to announce our new collaboration with the Virtual Telescope Project – an international leader in real-time coverage of celestial phenomena.
You can read more about this new partnership in the dedicated press release.
Read on to take a closer look at our new partners, how the collaboration will work and our exciting first event!
About the collaboration
The Virtual Telescope Project was founded by astrophysicist Gianluca Masi in 2006. It provided an innovative service with real-time images of celestial events and live commentary from expert astrophysicists.
Over the past 16 years, the project has earned international acclaim for its scientific activity, astronomical discoveries and truly unique live events. Its coverage is featured by media across the globe with over a million viewers to boot.
That coverage comes from the project's own telescopes in Italy. However, there are some popular phenomena, like solar and lunar eclipses, which aren't visible from the country. That's where its international collaborators come into play.
Start your free trial to work with data gathered by a network of professional telescopes located in both hemispheres under the best night skies.
Try it free
With telescopes in Chile, Australia and Spain, Telescope Live has the unique capability of covering both the Northern and Southern Hemispheres. Thanks to our collaboration, the Virtual Telescope Project can eliminate the barriers posed by time and location for viewers around the world.
Putting the 'live' in Telescope Live
We're thrilled to be able to make our network available to our new partners. Not least because it means we can add more of a 'live' experience into the Telescope Live offering.
That brings us to our exhilarating first live event that will be observed on 27th May 2022. This is the date when the potentially hazardous asteroid 1989 JA (7335) will closely approach the Earth.
Measuring 1.8km in diameter, the large minor planet will come within 4 million km, placing it perfectly for a spectacular show in the Southern sky. Our telescopes in remote parts of both Australia and Chile will be on hand to capture every breath-taking moment.
The near-passing will run twice – once from Australia and once from Chile. So, you have the option of watching the same event from either location or tuning in for both.
Start to explore space from the comfort of your home!
Try it free
Two live feeds are scheduled: 
From Chile: May 26 2022, starting at 23:00 UTC. Click here for the Youtube live stream of this event.
From Australia: May 27 2022, starting at 13:00 UTC. Click here for the Youtube live stream of this event.
The live feeds will be accessible online at the usual page https://www.virtualtelescope.eu/webtv.