Watch it live: Comet C/2022 E3 ZTF flyby with the Earth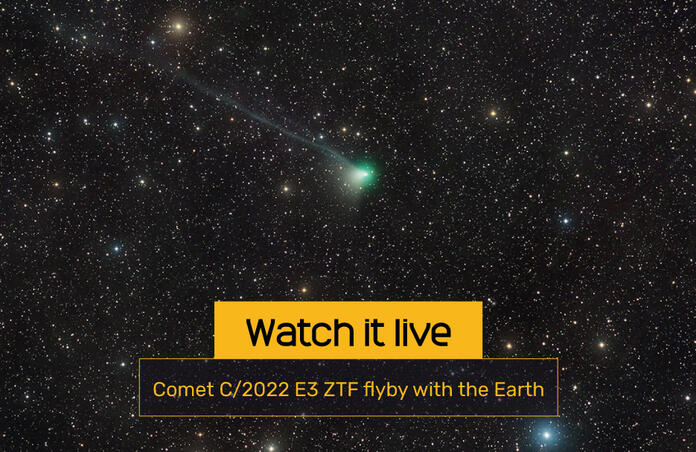 Comet C/2022 E3 ZTF is ready to amaze us at its brightest, reaching its minimum distance from the Earth. And today, you have a unique opportunity to enjoy the show - LIVE!
In the framework of our partnership with the Virtual Telescope Project (here you can read more about the partnership), on the 2nd of February, we will show you live the flyby of Comet C/2022 E3 ZTF.
The event will be observed from Italy (with the telescope of the VTP), Spain and possibly, New Mexico.
The live feed will start at 04:00 UTC with the comet at its minimum distance from our planet.
What to do to watch the live event 
All you have to do to watch the live event is to simply click the button below:
at the date and time mentioned above (i.e. 04:00 UTC of the 2nd of February.)
More about the Virtual Telescope Project
Founded by astrophysicist Gianluca Masi, the Virtual Telescope Project began its scientific adventure in 2006. It provided an innovative service with real-time images of celestial events and live commentary from expert astrophysicists, thus offering a never-seen-before experience to the world – the exploration of the Cosmos live and online, with real-time images and live commentary from an astrophysicist skilled in science communication.
Start to explore space from the comfort of your home!
Try it free
Over the past 17 years, thanks to remarkable scientific activity, numerous discoveries and countless memorable live events, the Virtual Telescope Project has earned an extraordinary international reputation. Its contributions and contents are regularly featured by the world's most influential media, and online events are watched annually by over a million people from all over the globe.
They mainly make use of Italian telescopes owned by the project. However, some popular phenomena, like solar and lunar eclipses, aren't visible from Italy. That's where its international collaborators (such as Telescope Live) come into play.
In May 2022, we started to support the Virtual Telescope Project with a partnership that grants them access to all our observatories, eliminating in such a way the barriers posed by time and location for the Virtual Telescope Project Viewers around the world.