WATCH NOW: We Talk All Things Astrophotography with The Cosmic Companion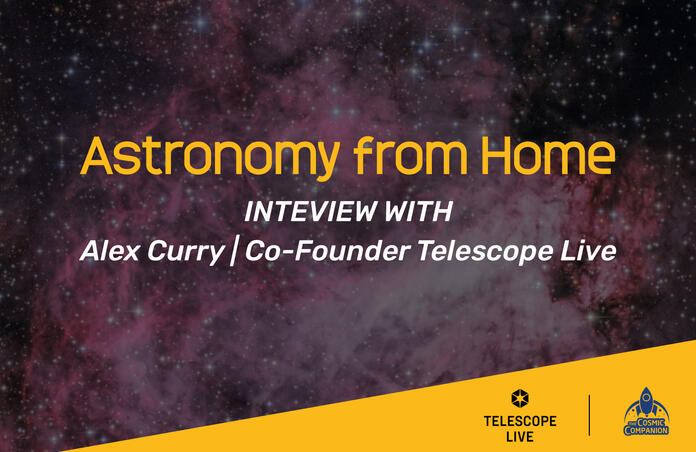 As you probably know by now, our core mission is to make astrophotography more accessible to professionals and enthusiasts across the globe.
But one of the biggest challenges of that mission is spreading the word!
That's why we were delighted to be invited for an interview with The Cosmic Companion.
What is The Cosmic Companion?
For those who haven't heard of it already, The Cosmic Companion is a leading astronomy newsletter and podcast, which has a similar mission to our own.
Trusted by both Google and Bing, they aim to 'bring complex space and astronomy news down to Earth'.
It's led by James Maynard, who has been named a top writer by Medium.com – not to mention a long list of accolades and recommendations for his newsletter and podcast.
Watch our episode
If you like the sound of The Cosmic Companion, you'll be delighted to hear that our recently recorded interview is now online.
In Astronomy from Home, our co-founder Alex Curry discusses all things astrophotography with James.
Is the world plotting against your observations? Start now your 1-week free trial and immediately access tons of top-notch quality data.
Try it free
You can watch the interview on YouTube here or, if you prefer Facebook, you can find it here.
Otherwise, if you want to listen to it on the go, here's the link to the podcast.
---
Claim your exclusive offer and read The Cosmic Companion for less with an exclusive deal dedicated to our users
Named as one of the Top 25 Science Newsletters on Substack, The Cosmic Companion is a great way to stay in the loop about the ever-changing world of astronomy.
Now, with an exclusive deal for Telescope Live users, you can do that for less!
From now until the end of September, you can secure half-price for life on a subscription to The Cosmic Companion's VIP Newsletter.
Sound good? Simply click here and sign up online to get 50% off on The Cosmic Companion VIP newsletter:
Once you've signed up, you can enjoy exclusive content for VIP members, in addition to all the free articles, podcasts and much more on their site.
Clear skies!
Marco Rocchetto
Founder
Get data from top-notch professional telescopes located under the world's best night skies without leaving the comfort of your home.
Try it free