Telescope Live Contests – and How to Take Part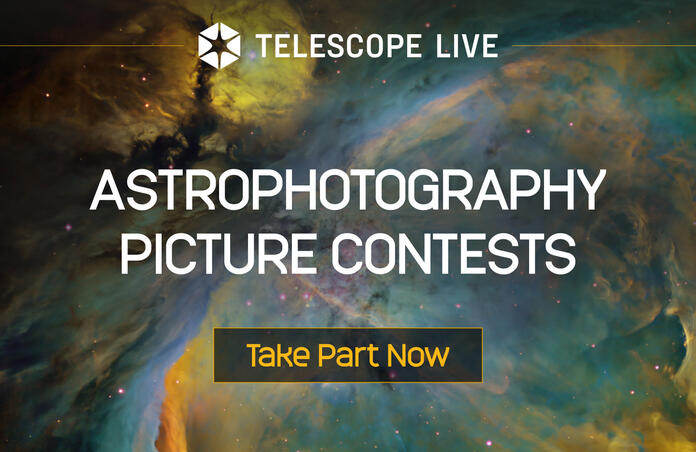 At Telescope Live, we understand that competition is an exciting part of the astrophotography pursuit. We all want to be the best we can be – and nothing feels better than recognition from our peers.
As such, we have two contests held on a daily and monthly basis to keep that competitive flame alive. Read on as we explain how each contest works, the differences between them and how to get involved!
Monthly contest
Let's start with our biggest competition – the Telescope Live Astrophotography Picture Contest. It's broken down into two monthly categories – One-Click Observations and Observation Bundles, depending on the data type used to create your image. Each of those categories has two tiers – beginner and expert.
Users are free to enter both the One-Click Observations and Observation Bundles competitions, but may only enter for their assigned skill level. You can find out your skill level using our short online guide. But be aware that our expert jury has the authority to move you to a different tier if they think you're in the wrong one.
How to enter
Click here to find out how to enter the competition.
Prizes
As our biggest competition, it's only right that we have equally big prizes for our monthly contests. Prizes range from 25 to 100 credits vouchers to be spent on the Telescope Live platform.
Telescope Live Picture of the Day (TLPOD)
Start to explore space from the comfort of your home!
Try it free
The Telescope Live Picture of the Day is our newest competition.
Every day our community administrators we'll be choosing the best new image created using Telescope Live data and posted in the Telescope Live gallery in the previous 24 hours.
The winning image will be reposted on all our social media channels and pinned for the day – with all the week's winners announced in our weekly newsletter too.
How to enter
To enter, all you need to do is post your picture on the gallery.
Pictures can be generated using data from one-click observations, observation bundles or advanced requests from Telescope Live.
Prizes
The prize is one that money can't buy – bragging rights. You have the opportunity to become the best astrophotographer for any given week or weekday. That comes with an invaluable, proud feeling when you see your name and image shared on our gallery, social media channels and newsletter.
Which is best for you?
Our monthly and TLPOD competitions are available to all Telescope Live subscribers – Bronze, Silver, Gold, Platinum and Diamond. That said, some contests may be better suited to your skill level.
Novices can get started with the Telescope Live Picture of the Day. The latter is particularly suited to newcomers given that your progress is taken into account when choosing the winner. 
All that said, our monthly contests have a category specifically for beginners, so it won't be long before you can throw your hat in the ring for the big prizes!
Start your free trial to work with data gathered by a network of professional telescopes located in both hemispheres under the best night skies.
Try it free