The Telescope Live Monthly Webinars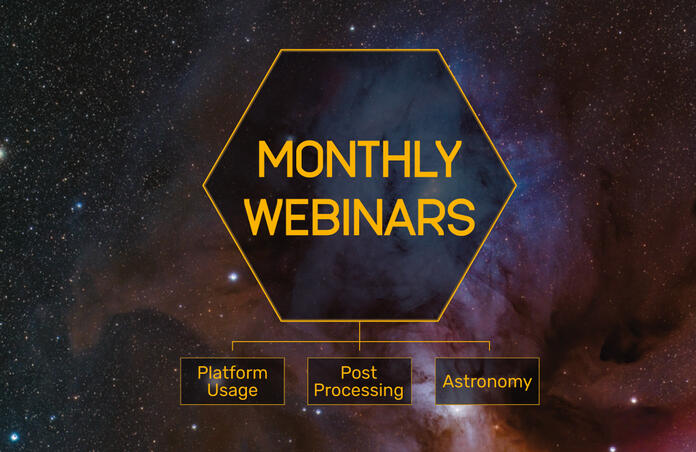 Telescope Live is proud to present our Monthly Webinar series, an initiative designed to empower our community with in-depth knowledge and insights about astrophotography, post-processing, and astronomy. 
These webinars are designed to cater to users of all skill levels and broaden your understanding of the cosmos and how to capture its magnificence.
The webinar series includes:
Platform Usage Webinar
Learn the ins and outs of the Telescope Live platform with Alex Curry, our co-founder. Discover how to leverage the platform to maximize your astrophotography potential, regardless of your expertise level.
Available to all subscribers.
Post-Processing Webinar
Each month, one of our world-renowned and award-winning tutors will showcase live post-processing techniques using a range of software tools. Enhance your images, learn new methods, and master the art of astrophotography post-processing.
Available to Silver plan members and above.
Astronomy Webinar
A professional astronomer will delve into intriguing astronomy topics, latest discoveries, and will offer deeper insights into our observable universe. Expand your astronomical knowledge and connect your passion for astrophotography with the science behind the stunning images you capture.
Start now your 1-week free trial to observe the night skies as you never did before.
Try it free
Available to Silver plan members and above.
Each webinar provides an opportunity for our users to interact, ask questions, and grow together as a community of astrophotography enthusiasts. If you cannot attend a live session, rest assured that recordings will be available in our Tutorial section for later viewing.
This initiative is part of our commitment to creating the most beneficial and educational platform for our astrophotographers. The universe is waiting to be explored. Join our webinars, and let's journey together!
How to Watch the Recordings of Past Webinars
Missed a live webinar? No worries, we've got you covered!
Explore recordings of our Platform Usage, Post-Processing, and Astronomy Webinars, all designed to enhance your skills and understanding of the cosmos. Whether you're a beginner or an expert, our recorded sessions are here to guide you at your own pace. 
Explore space from the comfort of your home! Start now your 1-week free trial.
Try it free
Please note that recordings of past webinars will be generally made available a few weeks after the live webinar