The James Webb Telescope Launch Date Has Been Delayed Again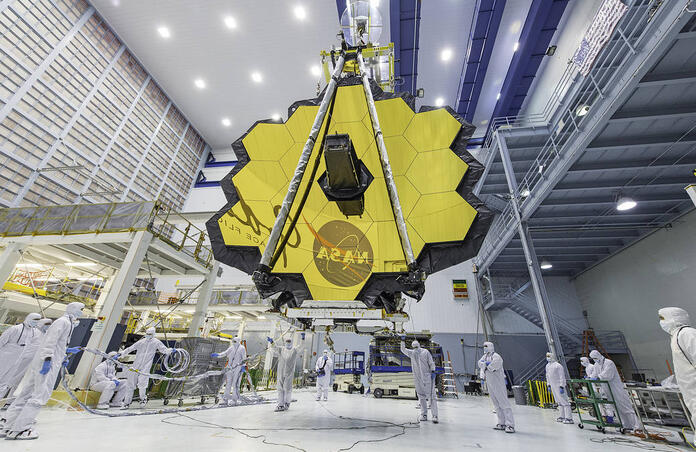 On Jun 10th, NASA officially confirmed that the James Webb Space Telescope would not be able to make its March 2021 launch deadline due to the COVID-19 pandemic.
The delay was announced at an online meeting with the Space Studies Board of the National Academies by Thomas Zurbuchen, the NASA associate administrator for science. Work on the telescope was proceeding smoothly and right on schedule, but the pandemic has slowed down the process considerably. Zurbuchen stated that "We will not launch in March. That is not in the cards right now. It's not because they did anything wrong." The launch date push back isn't too surprising—many NASA facilities have been closed since March, making a reschedule practically inevitable.
Work on JWST
Despite the delay and temporary suspension of testing and integration on JWST, work has begun picking up again—though only slightly. According to Jonathan Gardner, the deputy senior project scientist for JWST at NASA's Goddard Space Flight Center, 12 ten-hour shifts a week was the regular working schedule before the pandemic, but now it's been cut back to five eight-hour shifts every week. However, some personnel are slowly being phased back into work, particularly at the Northrop Grumman facility in Southern California, which expects to add an additional working shift schedule soon.
Combined with the current pandemic situation, JWST being delayed is also not too surprising given its history—the project has been delayed multiple times since 2018. Constant delays haven't dampened the spirits and dedication of the crews tirelessly working on the project, though. Zurbuchen mentions that they need to organize a better schedule for the current work environment. "What we need to do is learn the new efficiency," Zurbuchen states. "We need to calibrate that through a schedule review and go forward."
2021 Launch Date
Zurbuchen later goes on to state his hope that JWST will still launch in 2021, possibly at a later date. "I'm very optimistic of this thing getting off the (Ariane 5) launchpad in 21." NASA certainly hasn't set a new date in stone just yet, mainly because the pandemic may continue to cause work interruptions, but everyone (and us, too) is eager to see all of the fascinating and informative photos of the universe that JWST will provide.
Observe the night sky
Use our web app to take stunning images of the night sky.
Get started