Focal length blends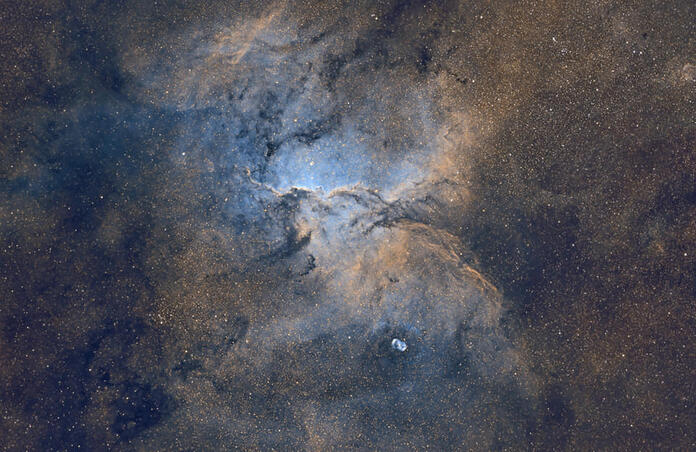 Focal length blends is not an uncommon technique in astrophotography but alot of beginners I have encountered question why we do it or how do you align images from different telescopes.
The why... We blend focal lengths to enhance the details in specific regions, this may be to enhance a specific region within a nebula or to enhance a nebula within a larger mosaic image. It often tends to be faster than imaging a large mosaic with a narrow field of view. Below I provided my blend from 3 telescopes, CHI-1, CHI-6, and AUS-2. You can see in the "dragon egg" that I managed to get more detail out of it than if I were to have just used a widefield shot of it. The other 2 images are not blends and to shown for comparison.
The how... Registration (star alignment) is able to match the stars from different focal lengths and resale them to match, for instance, I used my widest image from AUS-2 as my reference frame and registered the narrow views to that frame which in turn produces a integrated frame that's mostly black with the fov somewhere in the frame, you then integrate that (I used the script gradient merge mosaic) into your final image and voila, enhanced details. You may need to tweak some settings and turn on distortion correction in order to get a clean or successful result.
Access anywhere, at any time, the world's largest database of astrophotography data ready to be downloaded and post-processed.
Try it free
This technique can get more technical and to yield the best results it's better to have the frames with similar stars. I'll include a tutorial video from YouTube on this process however if someone has more to add or better tutorial recommendations please feel free to post in the thread so I can add it here.
---
This blog post was originally published in our Telescope Live Community.
The Community represents Telescope Live's virtual living room, where people exchange ideas and questions around astrophotography and astronomy. 
Join the conversation now to find out more about astrophotography and to improve your observation and post-processing skills!